New Hour of Code Tutorials!
I just received the following email from Code.org with over 20 new tutorials for the Hour of Code in December. So awesome! Don't be afraid to try the Hour of Code in your own
room even
if you don't have any idea what you are doing with programming. I AM HERE TO HELP! Want to do the Hour of Code in your classroom?
Let me know and I'll come and help you with it
. This is a really awesome way to get our students to be familiar with computers and what makes them tick.
An Hour of Code, featuring Anna and Elsa from Frozen!
We are excited to share Code.org's exclusive new tutorial for the Hour of Code 2014, in beta - featuring Disney's "Frozen" heroines Anna and Elsa!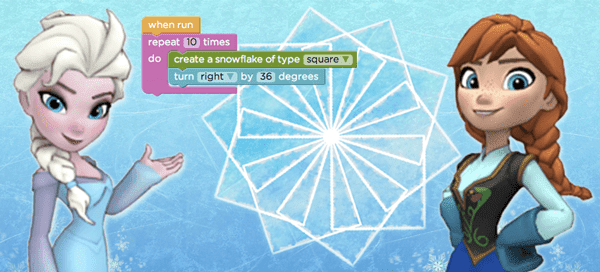 While learning the basics of computer science, students will create a winter wonderland, then share their artwork with friends!
20+ additional Hour of Code tutorials for all ages
3 weeks to go - 40,000 events worldwide and counting
With the Hour of Code (Dec. 8-14), 3 weeks away, please help your students join in on this record-breaking event!
Sign up now to join
.
Hadi Partovi, Code.org